Scarpa and Molino—
A Poetry of Dwelling.
January 2020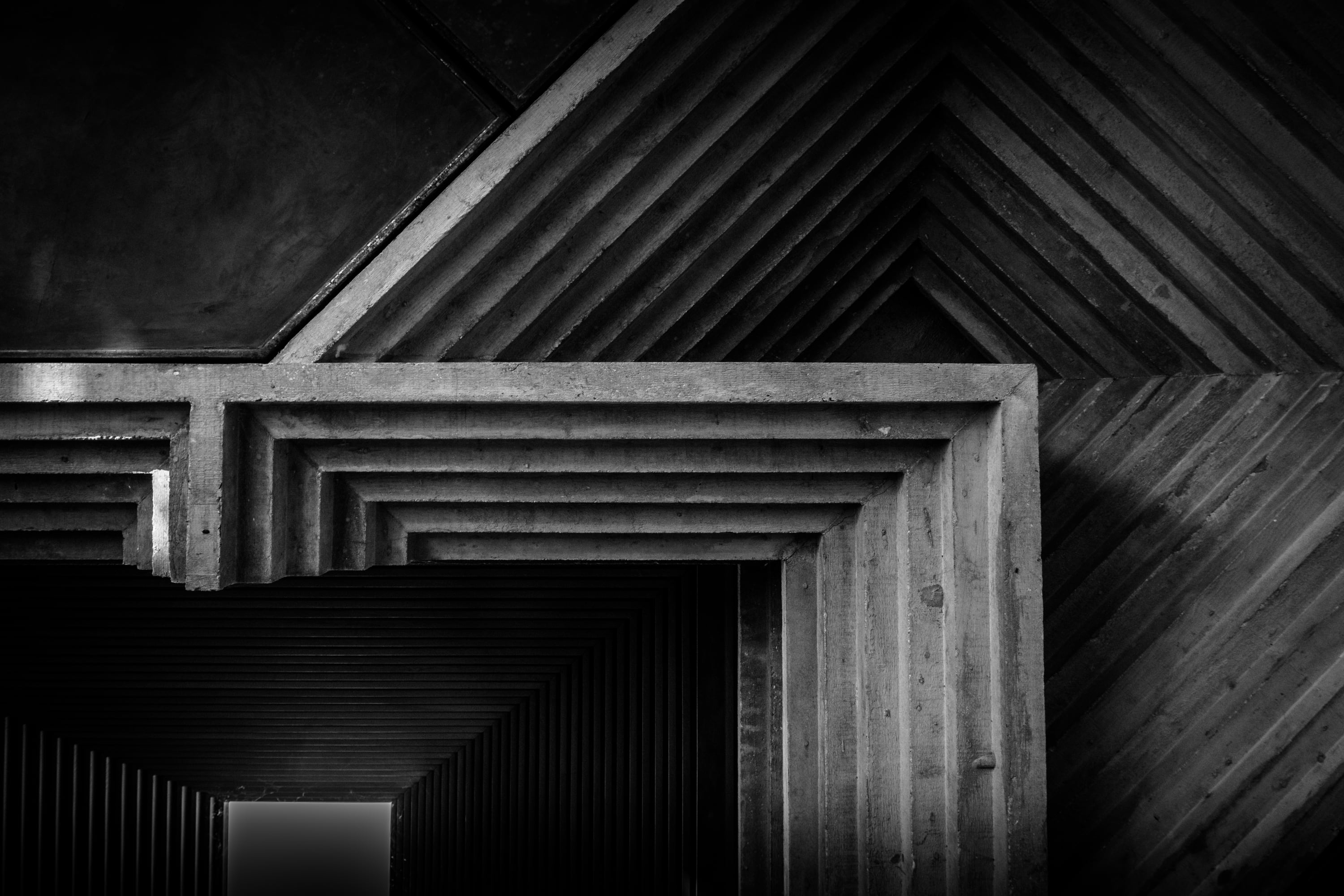 Ziggurat-like cornices. Shadow-sculpted concrete. Floating steps. Never had photographs of architecture been so poignant to look at. I sat transfixed as Ricardo Castro introduced us to Tomba Brion during our first architectural history course. Scarpa, in a single project, has managed what so many modernist architects failed at, that is, to restore architecture's metaphysical sense. He reinvents after-life through a poetic landscape that can only be experienced, a city of the dead confronting us with the "ever present enigma of the human condition".
Scarpa's body of work, his painstaking attention to details, and his intensive research on context and materiality, have been extremely influential in shaping my own design sensibility and methodology. For instance, an essential part of the Venetian architect's contribution was an act of weaving new architecture into the ancient fabric of a building or a city. His intentions were thus, not to revolutionize the built world, like Le Corbusier and his Plan Voisin for Paris, but rather to adapt it. His architecture becomes a dialectic revealing the complex interactions between the old and the new. This didactic approach culminates in Venice, where shifting ground planes, in the form of steps, bridges and loggias allow for a fragmented understanding of the urban fabric. Fondazione Querini, and Olivetti showroom in Venice or Museo di Castelvecchio in Verona, are but a few examples of this successful integration.
Carlo Mollino also embodies a mixture of "modernity and by gone sensitivity". I was only acquainted to Mollino's work in the capacity of a furniture designer, known for merging the organic and the surreal, the biomorphic and the functional, to introduce eroticism in post-war domestic architecture. I was stunned to discover a prolific body of work ranging from architecture, to fashion, photography and even racing. His obsession with speed and the curves of human form establishes a direct link to the Italian futurists. However, his motives were inherently more baroque: he viewed his buildings and interiors as a theatrical experience, a series of picture frames of a fictitious landscape. To that effect, he was concerned with the smallest details, to make the space, a total work of art. Casa Devalle, Minola or Rivetti appear to be highly theatrical spaces, designed for non-conformist clients to express their erotic desire and persona.
How will we live together? Asks Hashim Sarkis, curator for this year's Venice Architecture Biennale, as a theme for architectural inquiry. Alborto Perez Gomez, in his criticism of Durand's Functionalism, perhaps provides an answer to that question, stating that "the reconciliatory mission of the architect is poetic", for the latter needs to capture reality through metaphors and speak of a universal truth. Scarpa and Mollino's work dramatically engage the experiential and phenomenological dimensions of architecture, to create spaces that are personal in their expression yet universal in their ability to trigger the imagination. Scarpa's architecture becomes a device through which time can be observed, while Mollino uses the photographic device to freeze time and forever crystallize architecture's power of seduction. It is certainly no coincidence that this year's exhibition for the Canadian pavilion at the Biennale, entitled Imposter Cities, explores the role of national architectures in structuring global cinematic consciousness.
References:
Architecture (CCA), Canadian Centre for. "Carlo Scarpa's Tomba Brion: Photographs by Guido Guidi, 1997-
2007." Accessed February 2, 2020. https://www.cca.qc.ca/en/events/2868/carlo-scarpas-tomba-brion-
photographs-by-guido-guidi-1997-2007.
La Biennale di Venezia. "Biennale Architettura 2020 | Biennale Architettura 2020: How Will We Live
Together?," July 16, 2019. https://www.labiennale.org/en/news/biennale-architettura-2020-how-will-we-
live-together.
Archinect. "Canadian Pavilion for 2020 Venice Biennale to Explore Country's Role as Popular Filming
Location." Accessed February 2, 2020. https://archinect.com/news/article/150126265/canadian-pavilion-for-
2020-venice-biennale-to-explore-country-s-role-as-popular-filming-location.
Centre canadien d'architecture, Carlo, and Scarpa. Carlo Scarpa, Architect : Intervening with History. New
York, New York : The Monacelli Press ;, 1999.
Mollino, Carlo. Carlo Mollino : Photographs 1956-1962. Torino : Museo Casa Mollino, 2006.
Pérez Gómez, Alberto. Architecture and the Crisis of Modern Science. Cambridge, Mass. : MIT Press, 1983. Scarpa, Carlo. Carlo Scarpa : The Complete Works. New York : Electa/Rizzoli, 1985.
"Title - Credo Reference." Accessed February 2, 2020.
https://search.credoreference.com/content/title/lkingis?tab=entry_view&entry_id=17734421.